TAPASA, FOUNDED IN 1975. WE ARE A COMPANY DEDICATED TO THE CUTTING, BENDING AND PROCESSING OF SHEET METAL.
You design it. We make it.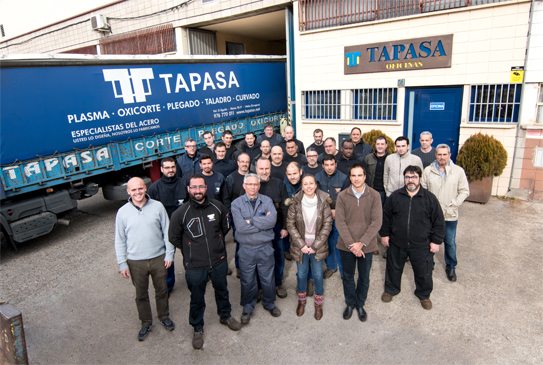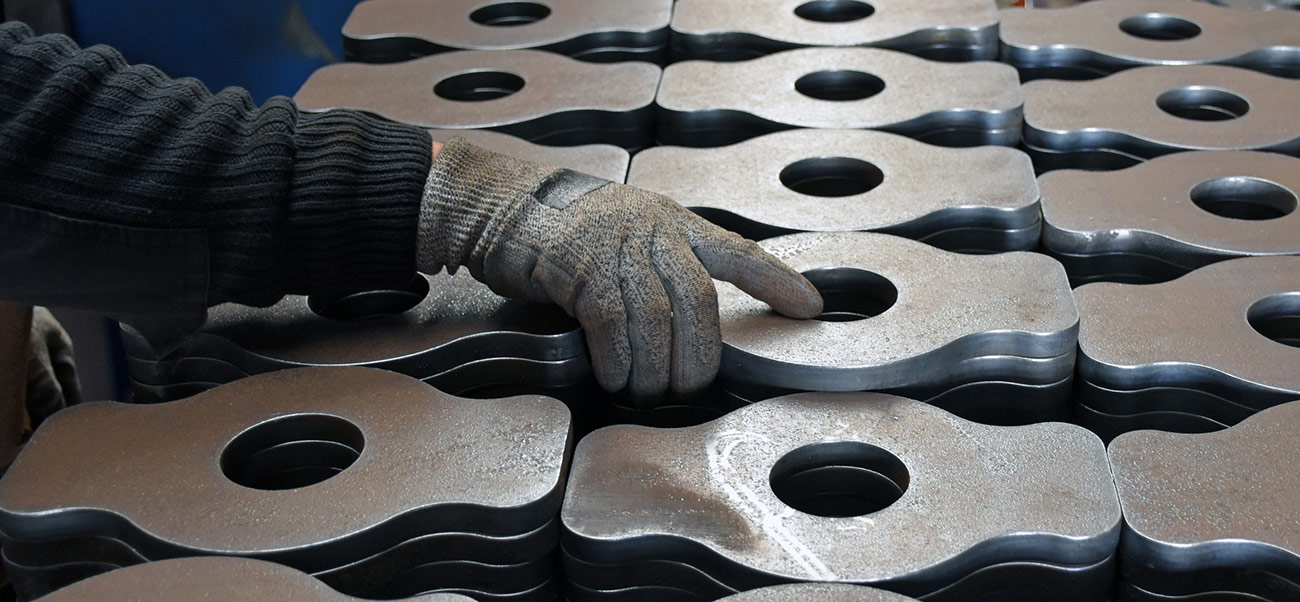 TAPASA, Talleres Palacio, is located in the El Águila Industrial Park in Utebo, Zaragoza. Its facilities have an area of 4,500 m2, divided in several sections: cutting and forming of sheet metal, laser, oxy-acetylene, and plasma cutting, as well as bending, drilling and storage.
Over the course of our many years in the business, we have earned the respect of our clients and suppliers.
TAPASA uses high-tech machinery to guarantee quality, satisfaction, and provide services to meet market demands. We are continually updating our technical capacity, not only to ensure the work that we do and produce is perfect, but also to ensure the safety of our workers.
A great team of technicians and experience going way back allows us to continue innovating in order to attain our main objective: providing our clients with high-quality, consistent service.
Our main clients are companies in the metallurgical sector: boilermakers, users of agricultural equipment and other machinery. Additionally, we provide services relating to metal structures, manufacturing equipment, renewable energy, petrochemicals, the aeronautical and shipping sectors, among others.
Do not hesitate to contact us; we look forward to forging a trusting relationship.
Tapasa SHEET METAL SERVICES
Our goal is to offer our customers a standardized, high-quality service. For this reason, TAPASA's Quality Management System is certified according to the 9001:2015 standard.
As a result, TAPASA has been accredited since 2006 by Lloyd's Register Quality Assurance. Our fields include the following: 'Cutting, bending, oxy-acetylene and plasma cutting of iron and steel products and marketing of the same'.
In addition, the quality policy is communicated and adopted by our entire staff. We adapt to the market with our continuous improvement approach, situating TAPASA as a trustworthy leader in the market.
For any other type of material do not hesitate to contact us.
WE MAINTAIN A WIDE VARIETY OF STOCK IN THE FOLLOWING STEELS:
Structural steel: S235JR, S275JR, S355JR and S355J2+N
High elastic limit steels: S355MC, S700MC
Galvanized steel of between 0.8 and 4 mm thick
Corten Steel: S355J2+NW.
Finally, highly wear-resistant steel 400-450
We also manufacture stainless steel and steel for boilers and storage tanks upon request.
For any other type of material do not hesitate to contact us.
TAPASA provides the highest quality-guaranteed products and traceability for all our parts.
Tapasa Contact
Talleres Palacio, S.A.
C.I.F.: A50029438
Polígono Industrial El Águila, 70, 71, 39, 40
50180 UTEBO Zaragoza
Tel.: 976 770 011
Fax: 976 785 080
Email: tapasa@tapasa.net
Do not hesitate to contact us to request any information about our services and to request a quote.
If you'd prefer to stop by, we'd be happy to answer your questions in person.