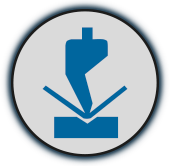 Hydraulic Braking Presses
With CNC (computer numerical control)
Sheets from 0.66 to 50 mm.
Hydraulic Braking Presses
We have 4 hydraulic presses, all of them equipped with CNC to bend lengths up to 7.1 m with a force of up to 630 tons. We also have a wide variety of tools (punches and dies) to perform virtually any bend from a sheet 0.6 mm to 50 mm thick.
At TAPASA we bend:

Gutters and purlins.
Trimming and ridge caps.

Side panels, floor panels and accessories for agricultural and dumping trailers.
Hoppers.
Maritime shipping containers.
We also carry out custom jobs on thick, anti-wear, and high elastic limit sheet metal, etc…
Transformations, connectors…
AT TAPASA SERVICES WE ARE AT YOUR DISPOSAL FOR ANY QUERY REGARDING THE PARTS YOU NEED