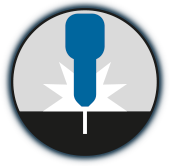 Thicknesses from 6 to 300 mm.
Oxy-acetylene cutting
Among TAPASA's services we offer cutting by means of a 14 x 3 m oxy-acetylene line equipped with 4 torches to cut sheet metal from 6 to 300 mm thick.
It is equipped with numerical control programmable through CAD. Out tech office program's and sends the information to the machines.
AT TAPASA SERVICES WE ARE AT YOUR DISPOSAL FOR ANY QUERY REGARDING THE PARTS YOU NEED